It is no unknown that your first impression is gauged by your footwear and nails, but you are overlooking a very important thing here- your pants. Men often ignore the long pants that cover the majority of their body and worry more about styling the upper half of their look, but the right pair of trousers can provide comfort and confidence, the two most important aspects of style.
Fortunately, there is no shortage of options when it comes to pants, but it is easy to get stuck in a style rut with these many choices. The right pants can help you look classy, even with the most basic shirt or tee. From casual joggers to linen trousers, it is important to know what pants to wear and how to make them look great on you.
Here are some pant styles that every man should consider for his wardrobe for a new and refreshing look. Some are classic and formal, but always fashionable, while others are modern and more appropriate for casual dressing. This style guide gives a detailed explanation of trousers you should consider buying for your wardrobe.
Linen Long Pants
Linen is a wonderful and durable material. In the past, men prefer not to wear linen trousers because of their bloomer-like look that made men's legs appear short. However, thanks to the expertise of fashion designers, improved and processed linen trousers that are extremely light, breathable, and comfortable to wear are now available on the market. Men's linen pants are quite pleasant, especially for wearing in the scorching heat of summer, as this fabric can absorb sweat easily. They can go well with any formal shirt or casual t-shirt.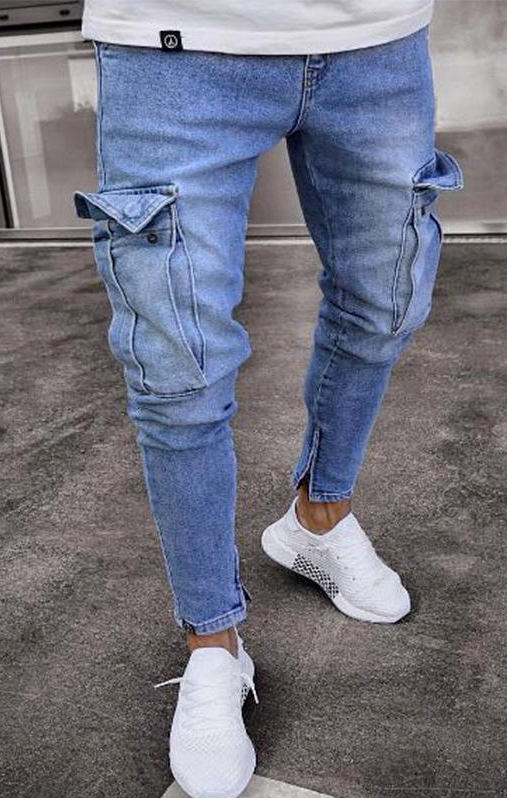 Classic Blue Jeans
You can never go wrong with well-fitted classic blue jeans. We are sure that every man has one or more pairs of jeans in their wardrobe, but did you know that there are many different types of jeans according to their style or fit? Slim fit jeans, skinny fit jeans, regular jeans, wide-legged jeans, ripped jeans, and bell-bottoms are some of the popular examples. Although jeans look pretty simple, you can raise your style quotient by paying attention to the little details. We totally recommend you must invest in a few jeans pants for your go-to looks.
Checkered Trousers
While this is not a style suitable for all occasions, checkered trousers are one of the best choices for formal occasions. When given the chance, checked pants can add a lot to enhance the appeal of your office outfits. However, fitting is the key to rocking a checkered trouser look, as it must sit well on your physique instead of draping it awkwardly. You must ensure that the fit isn't sloppy and pay more attention to the trouser break. Also, your best bet while wearing these pants is to keep the upper half minimal. Next time, give a shot to the bold windowpane checks for your corporate brunch, or wear faintly woven tonal checks for your client meeting to stand out from the crowd.
High Waist Trousers
Sticking to the stylish route, high waist trousers are another versatile pair of pants you must have in your wardrobe. In the last few years, the trend of low waists has been overtaken by high waist trousers. Moreover, it's not that this trend has been accepted by ladies; men can also create bold looks with these smart pants. They are the best picks for short people, as high waist pants help you look taller. Style them with blazers for a formal yet appealing look. Or, tuck your tee in for a Hollywood vibe on your trips. You can level up your fashion game by adding accessories like bold belts or expensive shoes.
Cropped Long Pants
Just like high waist pants, cropped long pants also improve visual height. High-waisted pants give a taller look from the waist whereas, cropped long pants do so as they are a bit shorter from the legs. With cropped long pants, you can even show off a funky pair of socks or just give enough air to your ankles! These pants can smartly spice up a formal outfit and add some jazz to your collection of trousers. Thanks to their versatility, they can give you a slaying look with almost anything. Choose to wear them with a shirt at work or with a t-shirt and jacket for a sporty look and watch the compliments fly.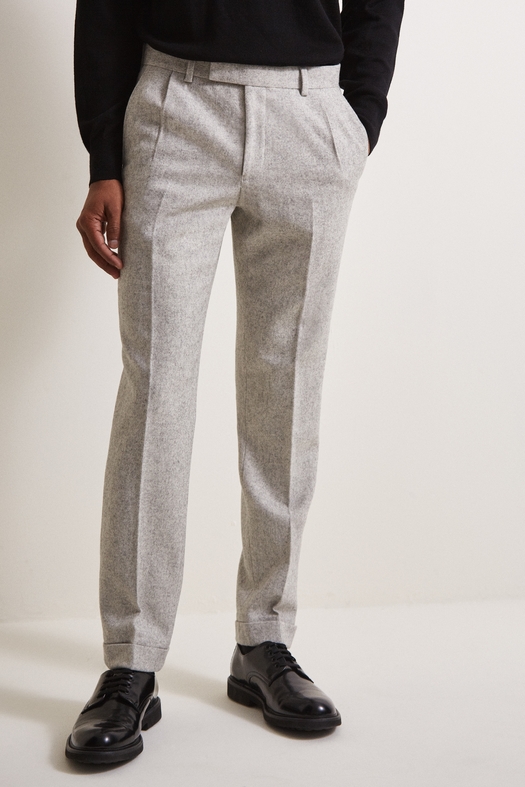 Pleated Trousers
If you fish through your grandfather's old sartorial collection, you are likely to find a pair of pleated trousers. Pleated trousers are again back in the spotlight, and so now is the perfect time to create a modern look. These pants have folds or pleats along the waist and towards the front, making them significant bottom wear for formal and informal events. The purpose of these pleats is to provide immense comfort and a bold style statement as they provide some extra room around the thighs for more freedom of movement.
Joggers
Joggers are the trendiest type of trousers these days. They are the stylish cousin to your regular workout pants. Being extremely comfortable yet stylish, they are the perfect streetwear for casual occasions. They provide the comfort factor of pure luxury without making you feel like a slob. Flaunt this look by styling it with a long-line sweater or a turtle neck t-shirt for the ultimate laid-back feel. Style them up with sporting slip-on shoes for your airport looks or for your snazzy days to look cool, and you will want to wear them every day.
From linen trousers to joggers, there are many different types of pants for different occasions. If you are ready to amp up your good looks by making a pleasant change from your regular denim pants, invest in these seven types of good-looking pants and we are sure you will have eyes on you everywhere you go!