For years, our previous family room just did not work for us… and it's entirely my fault. When we constructed our house, I picked a corner fireplace rather than the traditional placement between two windows. I've gone on and on about what an AWFUL IDEA THAT WAS, but I won't go on about it any further. You're very welcome.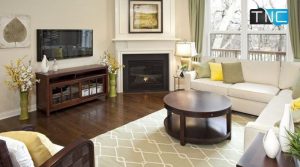 Last year, I finally worked out how to make the corner fireplace work better in the space, and I am SOOO much happy with it:
We also moved the TV equipment to a new location in the room last summer, which freed up the space significantly.
We paid off a massive amount of debt early last year (I can't believe it was only last year!) Our first actual purchase (bought for with "cash") was a really wonderful sectional from Arhaus: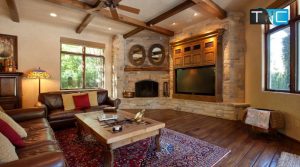 This is without a doubt one of our finest purchases…if not the best. This sofa is quite comfortable and has held up extremely well! The cushions aren't flat, spills are easily cleaned up…amazing. It looks just like the day it was delivered!
That photo shows that I reinstalled the Rugs USA rug in the family room – the old rug was in such bad shape that I decided to try this one again. I didn't think the draperies and cushions went well with it at first, and I still don't believe they do. But they're alright for the time being, so I'm not concerned. I wasn't about to redo the entire room just for the rug. Maybe later, but not right now.
I purchased a couple of new pillows from Target earlier this summer that include a lot more of the room's colors. I used to have solid red cushions in here, but these bring the rug much better. I also took several knit pillows from our bedroom since, let's face it, we all know I never make our bed. I mean…really? So, at the very least, they're being used in the family room rather than piling up next to the bed: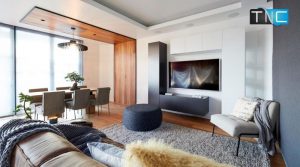 Our fridge died last summer (nearly exactly a year ago!) When it failed, our laminate floors went with it. So insurance covered the cost of new flooring, and we contributed a little extra to get real hardwoods across our main level:
Oh my goodness, I adore these. So, many times We couldn't have done it without that nice fridge breaking down on us, so I'm not quite as unhappy about it anymore.) Living in shambles for two months was not enjoyable at the time.
When we relocated our TV equipment last summer, I converted a Craigslist dresser into our entertainment center:
(I'm not sure why the rug is coming up as brilliant blue there; it's actually more of a charcoal blue tint.) By the way, the components under the TV function well! I like having them out of the way. I despise technology, wires, and other such things… I'm always looking for ways to hide them if at all feasible.
I do have some plans for this area, including new art, paint, and even a new wall treatment. I've decided on the color, but I've been debating the wall treatment for a long time. It will happen as soon as I am able to complete all of that work. That may be around a year.
I love how this room has evolved throughout time, but my favourite aspect is how much more open it is now. Moving the TV (which was previously to the left of the fireplace) across the room has made a HUGE impact.